Commodore 64 All-in-One!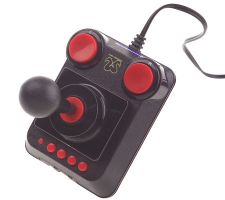 Check this out: A joystick, loaded with a complete Commodore 64 unit and 30 classic C-64 games! I've been playing with the little joysticks that have the old arcade gems like Pac-Man, Galaxian, etc., but this just blows them all away. Unfortunately, the only place to get them
appears to be QVC
, as they bought the entire run of 250,000. The good news is that they are only $30 (or two for $50.)
With a little hacking, you could turn these into a full C-64 system - if you can only find the keyboard and other ports to solder onto the board. Apparently the thing even comes will a full BASIC ROM. Very cool. I guess I don't really need one because I still have two working machines (and a Lt. Kernel hard drive!) but what cooler thing than having one of these hooked up to the TV?
Read more for listed games, but they include such greats as Impossible Mission 1 & 2, Paradroid, World Karate Champion, and Tower Toppler. Of course if you want to play Toppler, you can download an OS X version
here
and you can get Freedroid (a Paradroid clone) for OS X
here
.
Update December 20, 2004: Check out the story in the New York Times about the designer. Linked from
here
.

Included Games

• Bull Riding
• Championship Wrestling
• Cyberdyne Warrior
• Cybernoid
• Cybernoid 2
• Eliminator
• Exolon
• Firelord
• Flying Disk
• Gateway to Apshai
• Impossible Mission
• Impossible Mission 2
• Jumpman Jr.
• Paradroid
• Pitstop
• Pitstop 2
• Rana Rama
• Silicon Warrior
• Speedball
• Summer Games
• Super Cycle
• Sumo
• Surfing
• Sword of Fargoal
• Tower Toppler
• Uridium
• Winter Games
• World Karate Champion A
• World Karate Champion B
• Zynaps
Posted: Sat - November 27, 2004 at 12:55 AM